When caring for a relative, partner, family member, friend, or neighbor with a chronic or disabling condition you are an unpaid Caregiver.
Of the 43.5 million unpaid Caregivers in the U.S., 75% of them are women.
On top of a full-time job, a Caregiver can provide an additional 20 hours or more of unpaid care to their loved ones.
Add this to the fact that six in ten US adults have at least one chronic disease and you have a critical need for a woman's self-care!
For this reason, it's vital as a Caregiver to take a measured approach to meet your own health and wellness needs, and I will share some critical practices to help you get where you want to be.
THE BATTLE OF A LOVED ONE IS YOUR BATTLE TOO
Illness and disease present a hostile assault on your way of living and being in life.
I experienced this first-hand as a Caregiver for several family members and in serving women Caregivers during my 20 years of supporting children with disabilities.
Their battle is your battle.
Thus the emotional and financial toll on the Caregiver can be overwhelming.
There is a deep emotional drain as you experience the pain of your loved one. You fight off fears using your positive spirit to the fullest.
The financial burden of lost wages, family leave or forced early retirement, and time out of the workforce can leave Caregivers feeling helpless on the battlefield.
As a result, a Caregivers' health, wellness and finances can become jeopardized over time leaving their loved ones at risk for support, unless the negative cycle is changed.
Caregiver Health Risk Include:
Depression
Anxiety
Mental health challenges
Development of new chronic health conditions
Decline due to a current health condition
Negative impacts to social relationships
Higher risk of death
PRACTICES TO MAKE SELF-CARE A PRIORITY
Caregiving is more about "doing" and less about "being."  Consequently, there can be loss of self over time.
It's important to realize that taking care of yourself throughout Caregiving means you can better support your loved one while preserving your own health and wellness.
As a result, you will have a healthier transition when Caregiving is no longer necessary. And you will experience positive reflections on your Caregiving as you accompany your loved one.
MAKE ROOM FOR YOUR FEELINGS. It's normal to feel despair, fear, concern, anxiety, guilt, etc. when faced with the complexities that come with Caregiving. Complexities such as learning how to operate medical equipment, managing medications, and/or helping with personal care tasks of your loved one.
You are human. These thoughts and feelings are part of a fully lived life in service of your values. Talking to others, writing out your feelings or reflections and journaling can be ways to express yourself in a healthy way.
Also, recognize that thoughts about the stressful event are just thoughts. Ask yourself whether your thoughts are really true and accurate or whether they are just a perception or belief.  Allowing these thoughts to come and go while you respond in service to your health and wellness values.
If you are experiencing changes in appetite, prolonged feeling of despair, inability to experience pleasure, risk-taking behavior, and/or thoughts of suicide seek professional support at once.
RECOGNIZE THERE MAY BE NO "PERFECT" SOLUTION. When you are faced with a difficult situation, especially when there are a number of equally undesirable choices, know that there is usually no quick fix or perfect solution. By its definition, it is a dilemma. If there was a perfect solution or quick fix, it would have already occurred.
PRACTICE SELF-COMPASSION. Set aside self-criticism and harsh judgment toward yourself. Try replacing your thoughts and words with kindness and statements of love and self-compassion. Just as you would toward your loved ones. Self-compassion can release the hormone oxytocin. Oxytocin stimulates the hormones dopamine and serotonin in your body, which has a beneficial calming effect on your body.
ACCEPT SUPPORT – ALL TYPES. Often, we recognize the need to help others and offer our support, but we refuse that same support when offered to us. Accepting support is NOT a sign of weakness. It's a sign of being human.  No matter the form of support (talks, finances, meals, transportation, respite, etc.), accepting these offers can preserve your health and wellness over time allowing you to better care for your loved one.
GET YOUR NEEDS MET OUTSIDE OF CAREGIVING. A Caregiver can become very entrenched in their role, especially during prolonged care. Caregiving can become an identity that takes over life. By getting your needs met in other aspects of life, a Caregiver can maintain strong relationships, stay connected to social outlets, and promote a healthy transition out of caregiving when it's no longer necessary.
ENGAGE IN SIMPLE, HEALTHY ACTIVITIES AS MUCH AS POSSIBLE. Doing these types of things will better help you connect with quality sleep, nutrition, exercise and a sense of well-being as you fulfill your Caregiver role. Small, simple steps can have significant cumulative benefits over time.

Eat regular meals that are nutrient dense instead of processed foods and refined sugars that contribute to chronic disease.
Take time to connect with nature. Simply noticing nature or taking a brief walk can have beneficial effects on your well-being.
Practice simple breathing exercises that reduce stress.
Make a schedule that helps you to be more organized and feel less at the mercy of situations.
Ensure you have someone that you can be vulnerable with, who will listen, be empathic and not pass judgement.
Celebrate your caregiving successes. The cumulative effect can be powerful and help you to zone in on what's going right instead what's going wrong.
Do something simple that you enjoy, (i.e. podcast, music, gardening, reading, puzzle, etc.).
Don't overdo it with exercise if you're chronically stressed. Walk, do yoga or gentle stretching to relax and avoid over-stressing your body.
Schedule 7-8 hours of consistent sleep. Caregivers often lack adequate sleep due to their situation. Sleep allows your body to repair, heal, and operate optimally. Here are some effective ways to improve sleep.
Ultimately you must first help yourself to effectively help others. When your needs are being met the person you are caring for will benefit too.
Start where you are – self-care is a lifelong commitment.
Over to you…
What ways might you be pushing yourself beyond reasonable limits in your Caregiver role?
How are you getting your own needs met outside of Caregiving?
What are you currently doing to preserve your health and wellness to avoid Caregiver burnout?  Is this working for you?
What support do you need?
Having served in many Caregiver roles, I understand your challenges.  Contact me to discuss how coaching can support you.
Wishing you Wellward! Linda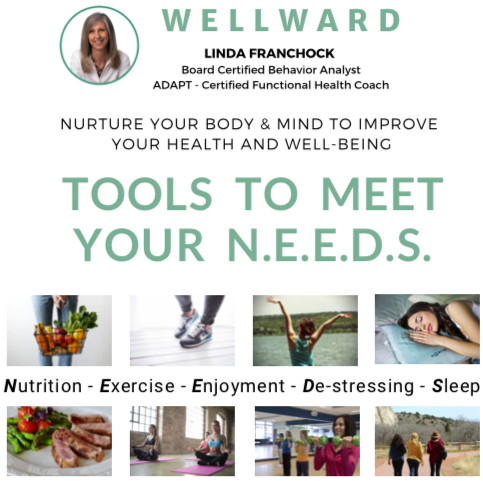 Sign up today to receive the "Tools to Meet Your N.E.E.D.S." ebook, which contains Linda's favorite products and practices for wellbeing.
You'll also get notified about new resources and learning opportunities from Wellward.
Discover over 200 resources to help you reach optimal health and wellness. Explore links, apps, books, articles, podcasts, videos and more!