We know that over 85 percent of chronic disease is driven by our behavior and environment—not our genes (or our age). (1)
But information isn't enough to change our behavior.
If it were, everyone would be engaging in the top health behaviors of getting the necessary amount of exercise and sleep, eating nutrient dense foods, and avoiding smoking and drinking excessively.
Unfortunately, only 6 percent of Americans consistently engage in these health behaviors according to the Centers for Disease Control. (2)
Not because they lack the knowledge, but because they're unable to successfully change their behavior.
BUT I HAVE WILLPOWER
Research shows that people who rely on their "willpower" or self- control alone aren't necessarily more likely to accomplish their goals compared to those who don't rely on it.
Actually, people who experience fewer temptations overall are more successful in completing their goals.
That's because willpower is a limited resource, one that weakens and becomes less reliable the more you use it.
Willpower literally drains your brain, negatively impacting cognition and functioning and your ability to achieve your goals.
You can't just "recharge" your willpower like a battery . (3)
Relying on willpower or self-control alone can actually sabotage your efforts!
BEHAVIOR CHANGE CAN BE COMPLEX
All of the knowledge and expertise in the world doesn't matter unless you can apply it to your own life.
Even highly motivated people struggle to implement change.
Applying change to your life is a complex process.
Especially if behavior patterns are deeply rooted, not fully understood, and change is needed in many areas of your life at once.
Additionally, changing your behavior frequently impacts others in your life who may or may not support your goals or need for change.
Imagine being faced with a new diagnosis. One that requires diet and exercise changes, stress reduction and scheduling of numerous supplements. And everything must start at once.
Trying to emotionally process and understand a new diagnosis, while trying to figure out how to make each necessary change is beyond overwhelming.
You may have limited resources and support. Little to no understanding of the diagnosis. And no strategies to successfully plan for and carry out the changes.
This makes it very difficult to succeed with the physician's plan to regain your health.
Even a single change, like eating healthier, is challenging to implement for many of the same reasons.
Thinking about where to begin, all the planning and how to carry it out across all areas of your life causes you to give up before you even start.
HOW I CAN HELP YOU WITH CHANGE THROUGH PERSONAL COACHING
Partnering with someone to help you with your health and wellness isn't about being weak—it's about being brave.
It's about working together on a common goal to create sustainable change so you can enjoy the life you want.
As your coach, I use my expertise as a Behavior Analyst and a National Board Certified Health and Wellness Coach to set you up for success.
I provide you with a powerful partnership were you're not alone in your journey.
In our coach partnership you…
Discover your personal values and motivation for change.
Determine the skills and behaviors needed to meet your individual goals.
Develop personalized behavior change strategies you can successfully implement.
Build on what's working instead of wasting time and energy fixing what's not working.
Navigate through the stages of change.
Gain awareness and understanding of your underlying needs.
Recognize and eliminate barriers to your success.
Gain clarity and direction throughout your sessions.
Decide on accountability and goal setting that helps you keep on track to achieve your goals.
Adjust your plan to continue progress toward achieving your goals.
Celebrate and acknowledge your achievements at every session.
We work together in a judgement free, confidential environment where you can comfortably share your thoughts. I respect your starting point, experiences and abilities and believe you're a resourceful individual.
You are the smartest person in the room when it comes to knowing what you want out of life. You already have the answers.  Having the support of an experienced coach as a guide to help you realize your long-term goals makes all the difference.

FREE ONE-HOUR COACHING OPPORTUNITY
If you would like to learn more about having me as your partner in change, please contact me here.
I offer a free one-hour coaching session.
In this session we get a chance to know each other. You can ask any questions, share your thoughts and decide if coaching is right for you.
There's no obligation at the end of the session.
Consider contacting me today so you can start moving toward the life you want tomorrow!
Over to you…
What's holding you back from making the progress you want?
How long have you been wanting change?
Where could you use support toward your goals today?
Wishing you Wellward! Linda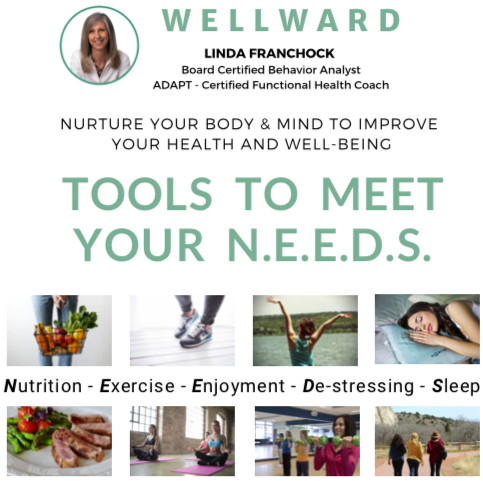 Sign up today to receive the "Tools to Meet Your N.E.E.D.S." ebook, which contains Linda's favorite products and practices for wellbeing.
You'll also get notified about new resources and learning opportunities from Wellward.
Discover over 200 resources to help you reach optimal health and wellness. Explore links, apps, books, articles, podcasts, videos and more!