"Coaching with Linda is like taking a deep, satisfying breath of fresh air. Between having children, marriage, transitioning back into my career- somewhere along the way, I lost myself and carried along self doubts for years. My coaching relationship with Linda has given me the tools to find a clarity, gratitude and presence that I've never felt before. Through her kind and empathetic guidance, I'm better able to recognize and strive for my goals, listen to my intuition and continue to have a clearer picture and appreciation for the choices that help me create the life that I want for myself and my family. She is a true blessing in my life and has supported me to create space in myself for more peace, calm, self-confidence and vitality. This is the magic of Linda! She is helping me find my way home to myself again and for this (and the many other ways she helps me) I will be forever grateful. Thank you Linda!"
CW – Berlin, Germany
"Through personal coaching, Linda helped me realize my future life changing goals and attach some concrete steps to best meet these goals. Her patience and thoughtful feedback helped me to the conclusions I needed to recognize. She is truly talented with a gift for thoughtful listening and aligning evidence-based resources to best help me along the way. She accommodated my schedule and that made it truly seamless for me and my too busy life. As I transition to my future, I know coaching with Linda was a great influence to achieving my goals in the most stress free way!"
SL – PA
"I have spent the last 10 years feeling lost, and finally having my two children in kindergarten I wanted to push myself into a new direction. I just didn't know where to begin, and the thought was like a looming black cloud that might suffocate me. My husband recommended that I try finding a coach, something I had never considered. And then I found Linda, for which I am so grateful. I don't know how else to put it. Working with Linda has honestly changed my life. She is compassionate and open. I never once felt judged or misunderstood. She listens and hears things in what I say that have given me great insight. She really cares and it feels as though she gets a kick out of seeing my own breakthroughs as much as I do! Working with Linda has been a process that has transformed how I see myself, given me the tools to see my own behaviour and to realise how that affects me. And most of all, it has kept me on a path following my own values and given me a sense of achievement, capability and self-worth that I have never had before. The black cloud is now fog in which to play hide and seek! Thank you!
LE – Berlin, Germany
"I'm glad I decided on Linda at Wellward! I was immediately at ease with Linda's personable manner and conversational-style coaching approach. Linda helped me define my specific needs and then set doable mini-goals between sessions. Most importantly, I find myself becoming more self-aware and making choices that keep me on track toward my goals."
Karen K – NC
"Linda encouraged me to consider a few lifestyle changes because 1) I was dealing with a parent with dementia that was stressful and 2) I was very frustrated with some weight and stomach issues that nothing was helping. Through her coaching I have been eliminated all stomach medications, lost inches, and weight. I have more energy and reduced my stress levels considerably. Sessions with Linda have supported me and clarified my thought processes to make those hard decisions. I am experiencing more peace in my journey."
DV – PA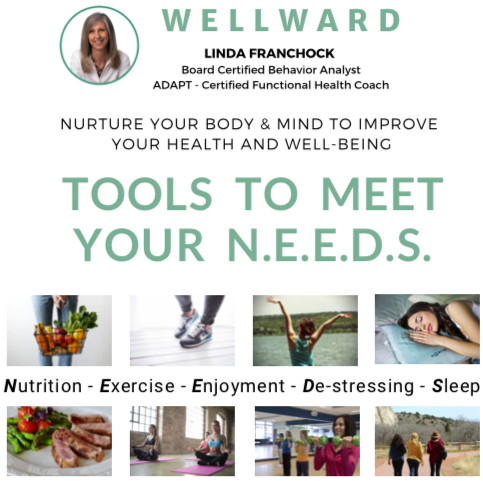 Sign up today to receive the "Tools to Meet Your N.E.E.D.S." ebook, which contains Linda's favorite products and practices for wellbeing.
You'll also get notified about new resources and learning opportunities from Wellward.
Discover over 200 resources to help you reach optimal health and wellness. Explore links, apps, books, articles, podcasts, videos and more!