I'm a recovered Superwoman and I write that with joy.
I have no desire to go back to the unsustainable Superwoman lifestyle.
That lifestyle brought me chronic stress, physical and mental exhaustion, sleep deprivation, brain fog, lingering sickness, emotional turmoil of choosing between my career and family, and loss of a social life.
I was beyond burnt out and unhappy!
Recovery from that life took time. My body, mind and spirit were wrecked.
It took time to reflect on how I ended up at that place in my life.
And then it took thoughtful planning and reevaluation of what I wanted moving forward.
EARNING THE SUPERWOMAN CAPE
Women go through major life changing milestones between the ages of 20 to 40.
We leave home, progress our educations, start new careers, build new lives in new places with new people and become wives and mothers all in a short span of 10 to 20-years. And some of these events can be happening simultaneously.
Life gets crazy. Our minds, bodies and spirits are changing at a rapid pace.
Over time we end up intertwined in routines and behaviors that no longer benefit us and that seem impossible to undo.
Why? Because people are depending on us in all facets of our lives. And our fans our applauding our remarkable talents as we fly around saving the day.
So, on the outside we stand proud in our capes. Even if they're tattered, torn and smoldering from burn out.
But inside we can't imagine how we'll get ourselves off ground to fly another day.
RETIRING THE SUPERWOMAN CAPE
Many women have talked to me about their need to step out of the Superwoman role.
They understand the value of self-care and desperately want to embed more of it into their lives.
They take the statistics seriously when it comes to the risk of chronic illness if they continue down their current path. And unfortunately, some women are already suffering the ill effects of their over stressed lives and are working on their recovery.
For me, I now value simplicity.
Simplicity for my life means eliminating the unessential and adding the meaningful.
It means letting go of routines, ideas, thoughts, things and relationships that that complicate and negatively impact my life, wellness and overall health.
This has freed me to develop, grow and experience other opportunities that I couldn't otherwise realize.
It's a daily mindset that I work to grow, stretch and maintain.
And it doesn't require a cape.
Over to you…
What do you want less of in your life so that you can have more of what you want?
What's more important in your life right now than meeting your basic wellness needs? (i.e. adequate sleep, healthy eating, regular exercise and time enjoyed with friends and family).
What support do you need to retire your Superwoman cape?
Wishing you Wellward! Linda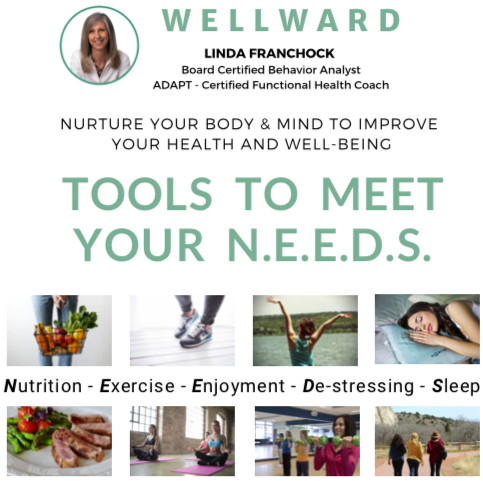 Sign up today to receive the "Tools to Meet Your N.E.E.D.S." ebook, which contains Linda's favorite products and practices for wellbeing.
You'll also get notified about new resources and learning opportunities from Wellward.
Discover over 200 resources to help you reach optimal health and wellness. Explore links, apps, books, articles, podcasts, videos and more!