Uh oh!
Here it comes.
My entire being is trying to wrestle it down. Suck it back. Seal it in.
But it's about to pass through my lips. Again!
It was a futile attempt, usually filled with regret.
Bam! There it was. YES. The reverberating YES.
UGH! Another commitment added to my already worn out, burned out, drained out life!
Why did I keep doing that to myself? I knew it was a mistake even before it left my lips.
My inability to say "no" was ridiculous. It didn't matter if it was family, work, or a stranger in a grocery line. I felt compelled to say, "YES".
Even in the mist of trying to say "no", I'd begin explaining how I could probably squeeze IT in. Or I'd suggest ways I'd help before being asked.
It felt like a curse!
I lived by some weird rule. Saying "no" was rude and selfish. Always say "YES."  "No" wasn't an option.
Even when I recognized people were playing me to do their work, I was compelled to say "YES".
My superwoman syndrome predisposed me to compulsory "YES" behavior. People learned I was an easy mark.
Unfortunately, once you create the superwoman "YES" persona, people expect things from you. Making it increasingly more difficult to say "no".
I had to create a filter with new rules to empower my wellness journey.
Life suddenly got better!
HOW THE DECISION-MAKING FILTER WORKS
A filter is tool that allows some things to pass through it, but not everything.
A decision-making filter is a tool. It provides an objective system of prioritization and decision making, based on your life's purpose, vision and goals.
Because the filter is objective, it eliminates the emotional burden that comes with saying, "no". And it keeps you productive. It keeps you focused. It keeps you on track with your wellness and lifestyle goals.
EXAMPLE: LINDA'S DECISION-MAKING FILTER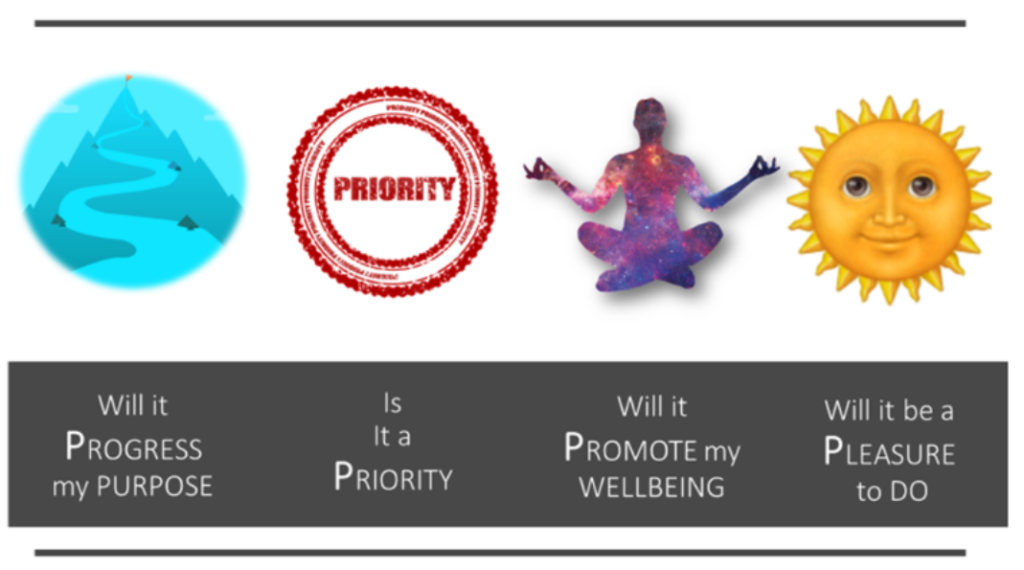 This is my decision-making filter. I call my filter THE 4P's. These are questions developed from my personal purpose, vision and goals statements.
Here's what I ask myself about a new opportunity, idea, project:
Will it progress my purpose? For my wellness journey, I committed to my purpose, vision and goals. To stay focused and aligned to these, I only devote time and energy to things that move me closer to these commitments. My contributions must be a good fit.
Is it a priority? Prioritizing keeps me focused on the completion of the most critical things first. It ensures I complete the things that need to be done, before the things I prefer to do.
Will it promote my well-being? There is no shortage of worthy tasks that fit my abilities. Therefore, I only select those things that promote my quality of life and well-being. This keeps me from becoming a crazy, wacked out superwoman again. This one is a must for me.
Will it be a pleasure to do? As much as possible, I seek doing those things I truly love. This supports my well-being and helps me continue to shape and mold the unique personalized lifestyle I strive for.
BENEFITS OF THE DECISION-MAKING FILTER
At first, using the filter and saying "no" was painful and excruciatingly difficult. I was detoxing my life from harmful commitments. It felt wrong. It felt selfish.
But the filter helped me adhere to the boundaries I established. These were based on my purpose, vision and goals. With practice, saying "NO" got easier.
My family, my work and my wellness quickly benefited from this process. And guess what? Nothing bad happened.
I'm happier (my husband's happier, too). Less stressed. More productive. And most of all, I'm experiencing a sense of balance that was previously missing in my life.
Many people understand when I said "NO". Some actually express respected for my boundaries. I'm not going to lie. There are those who get annoyed by "NO" due to their past history with my superwoman persona. To that I say, "oh well".
HOW TO MAKE YOUR OWN DECISION-MAKING FILTER
I owe a debt of gratitude and credit to Chris Kresser for introducing me to this process. It's beyond beneficial to me. So, I'm passing his recommendations onto you. I encourage you to create your own decision-making filter based on the purpose, vision and goals you've established for your life. If you haven't developed those yet, start here. Create statements for the following:
Your Purpose: What thing you are trying to accomplish or attain in life? Make a clear, concise, actionable purpose statement.
Your Vision: What vision do you have for achieving your stated purpose? Be specific and aligned to your purpose. A vision can change over time, but still needs to have a beginning.
Your Goals: What specific steps will you take? Again, develop clear, concise, actionable goals. These goals will help you prioritize daily, weekly, and monthly tasks, and will get you closer to your vision and purpose. What are your top three or four goals?
Once you know your purpose, vision and goals, create your decision-making filter by doing the following?
Develop important questions to ask when faced with a decision.
The number of questions you ask are totally up to you. keep it simple between 2-5.
Write your questions down and reflect on them. Try them out and refine if necessary.
Post them in sight as constant reminders. I made mine a 4P's poster and added visuals. It's posted in several places where I frequently make decisions as a reminder. Do what's most effective and efficient for you. The point is that you make one. And that you use it!
TIPS:
Start with some easy to say "NO" to things to build your confidence. It helps to get the process started.
Feel free to use my poster if it aligns with your purpose, vision and goals.
Over to you…
Is being a "YES" woman a problem for you?
Do you have a purpose, vision and clear goals?
Are you achieving your goals and realizing your vision?
Would a decision-making filter benefit you?
Commit to your purpose, vision and goals and seek doing the things you truly love. Happy decision making!
Wishing you Wellward! Linda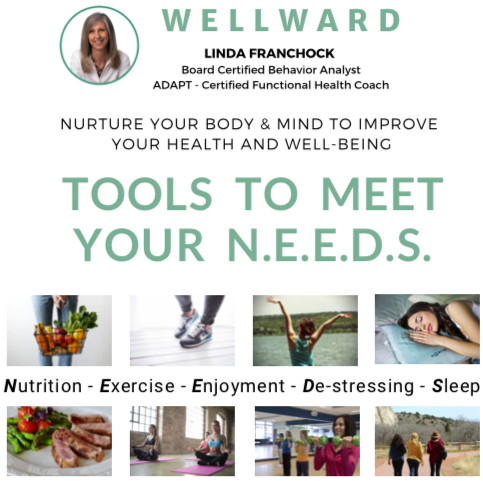 Sign up today to receive the "Tools to Meet Your N.E.E.D.S." ebook, which contains Linda's favorite products and practices for wellbeing.
You'll also get notified about new resources and learning opportunities from Wellward.
Discover over 200 resources to help you reach optimal health and wellness. Explore links, apps, books, articles, podcasts, videos and more!